Group exhibition. Quinzaine Radieuse #06. Piacé-le-Radieux.
27th June to 31st August 2014.
Curator: Mathieu Mercier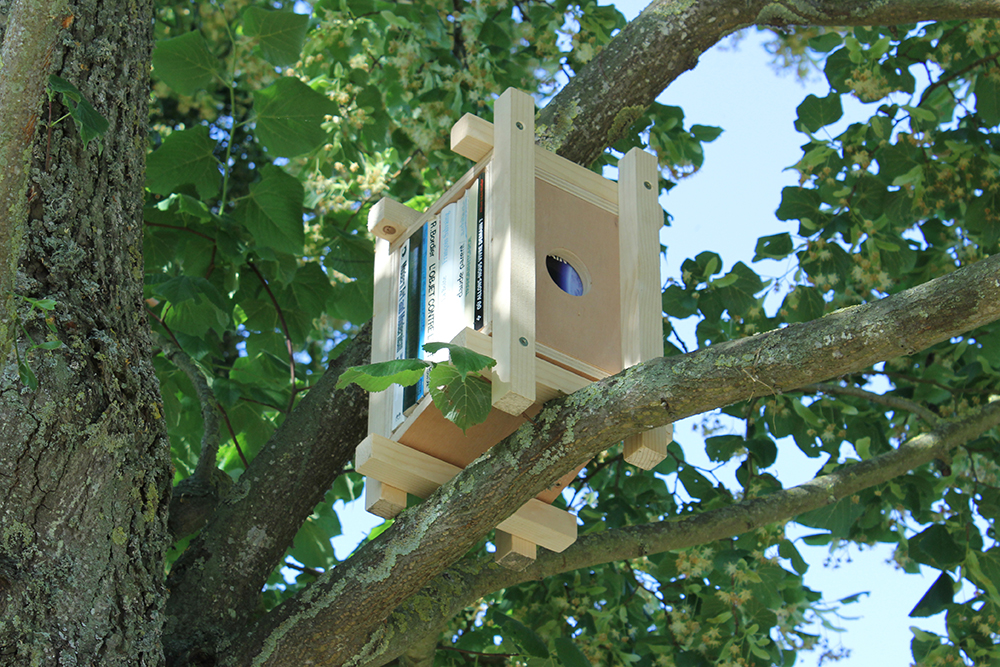 Mathieu Mercier leads a enquiry into to the statut of the object, both in consumer industry and in the field of art. In 2012, he initiated an art project in which artists, architects and designers are invited to conceive nest boxes, a rather singular manner to bring a twist to this artificial shelter with humour and poetry.
With new nest boxes by: David Ancelin, Block architectes, Neal Beggs, Lilian Bourgeat, Bernard Calet, Vincent Carlier, David Michael Clarke, Eva Clouard, Edith Commissaire, Hervé Coqueret, Marie Denis, Alix Delmas, Adélaïde Feriot, Francesco Finizio, Nils Guadagnin, Alexis Judic, Nicolas Herisson, Séverine Hubard, Anabelle Hulaut, Laurie Karp, L140, Damien Mazières, Daniel Nadaud, Noé Nadaud, Emilie Perotto, Camille Raimbault, Maroussia Rebecq, Pascal Rivet, Perrine Vigneron.
And nest boxes from previous editions by: Boris Achour, Dominique Bailly, Elisabeth Ballet, Virginie Barré, Davide Bertocchi, Hervé Bezet, Philippe Cazal, CLédat & Petitpierre, Claude Closky, Anne Colomes, Emmanuel Combarel, John Cornu, Luis Da Rocha, Laurence De Leersnyder, Pierre Descamps, Ligia Dias , Noël Dolla, Florence Doléac, Antoine Dorotte, Ludovic Duchâteau, Sammy Engramer, Elisa Fantozzi, Didier Faustino, Avelina Fuentes, Sébastien Gouju, Clarence Guéna, Adrien Guillet, Lina Jabbour et Guillaume Stagnaro, Pierre Grangé Pradéras, Sébastien Gschwind, Aïcha Hamu, Ibai Hernandorena, Armand Jalut, Gabriel Jones & Alice-Anne Brassac, Véronique Joumard, Laurent Le Deunff, Camille Le Houezec, Cécile Le Talec, Philippe Lepeut, Olivier Leroi, Gauthier Leroy, Nadia Lichtig, Stéphane Magnin, Dimitri Mallet, Emilie Maltaverne, Sophie Marthy Edward, Cyrille Martin, Matthew McCaslin, Karine Meyffret, Nicolas Mussche, Serge Onnen, François Xavier Orsini, Bertrand Parinet, Bruno Peinado, Laurent Perbos, Renaud Perriches, Candice Pétrillo, Bertrand Planes, Serge Provost, Benoit Pype, Chloé Quenum, Anne Cécile Ratsimbason, Hugues Reip, Simon Rippol-Hurier, Jérôme Robbe, Maxime Rossi, Christoph Rohmeier, Sylvain Rousseau, Bernhard Rüdiger, Marion Sagon, Loup Sarion, Kristine Solomoukha et Paolo Codeluppi, Jeanne Susplugas, Taroop & Glabel, Marc Thébault, Xavier Theunis, Aldéric Trével, Mathias Tujague, Olivier Vadrot, Stéphane Vigny, Jocelyn Villemont, Martin Widmer, Amy Williams.