Conversation between Anabelle Hulaut & David Michael Clarke about the exhibition, Vide Poches.
Médiathèque, Château-Gontier, France.
30th May to 30th August 2015.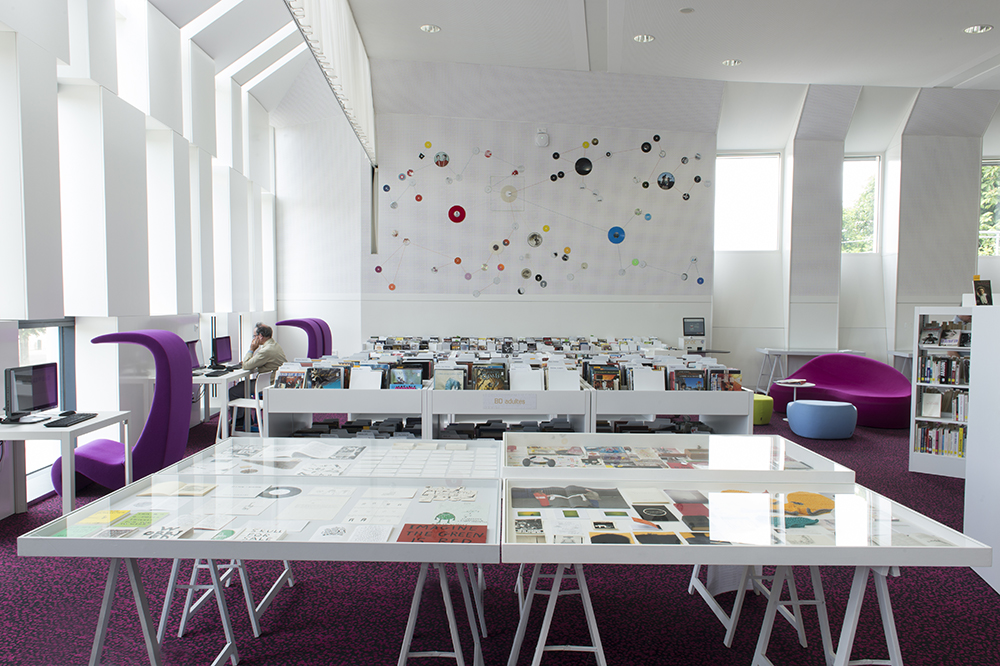 DMC : A year ago, a new «médiathèque» was inaugurated in Château-Gontier. It is situated in a great tree-lined avenue. Each time we look at it we think of the Guggenheim Museum in New York's 5th avenue.
AH : We've gone from the 19th century idea of a library with its dense shelving to a modern open space punctuated with furniture by Ron Arad and Verner Panton. There is also a dedicated exhibition space.
DMC : As for our proposition, it seemed evident for us to base the project on artists' books, editions and multiples. Personally, we have already accumulated a considerable quantity of this type of object. We have also collected some «stuff» that doesn't necessarily have the status of art, but is related to an art practice. Process objects that should have disappeared.
AH : It was important for us to link up and share the objects that we had amassed through encounters on our artistic journey. For me it seemed essential to show the work of my father, because it's through him that I came to art. As a totally free spirit, he likes to shake the salad bowl of cultural conventions. Alongside his big installations, like the flying saucer that was shown in the Chapelle du Genêteil in 2012, he has always cultivated and disseminated his «Epidemik» writing on all types of support. Among the objects and editions that we have chosen to present is a little box, quite intimate, entitled, «Bird-Fish-Man», made in 1989 whilst artist-in-residence in Barcelona.
DMC : As a child, I didn't come face-to-face with radical ideas about art. I came to art in a rather conventional way. I liked drawing. I like painting. It was only when I started to study at Glasgow School of art that I started to discover an enquiry into the nature of art itself, that art wasn't necessarily a noble thing, like oil on canvas, that it could also be something relatively poor like a box of matches. With fellow students like Jonathan Monk, Ross Sinclair and David Bellingham, and under the influence of teachers like Pavel Büchler, I could witness a never-ending experiment concerning these «little forms», both conceptual and pop.
AH : After my studies at Cergy-Pontoise, I worked for the Galerie du Jour Agnès b, and I learned how the art market functioned. However for me, what counted the most, was being able to meet so many artists. That's how I met Roberto Martinez, an artist who rarely works alone. He created «Allotopie», a proposition for a n interventionist network that attaches itself to the body of our society (public space, internet…). He utilises codes from propaganda (posters, fanzines, stickers) with an approach that is petit and humorous to highlight the ambiguities of power, social unfairness, and the rules of the artistic game.
DMC : Through my project «Post Gods», I had the chance to work with Pierre Beloüin and Optical Sound. Pierre is a visual artist, a curator, he runs his own record label, he publishes a magazine and the rest … He doesn't do all that beside his art practice. More it is his art practice, experimental and generous. Pierre is clearly the «head and the heart» of Optical Sound, and many are the artists, musicians and designers who have contributed to this collective project. Here he proposes a version of the «Circulating Library» that was first made in 2008 in collaboration with Claire Moreux & Olivier Huz. Inspired by the sketches of Buckminster Fuller, and borrowing the form of a complex molecule, this work is in effect an attempt to render visible some of the possible relations that exist within Optical Sound. The work contains all the edition produced by Optical Sound since 1997 and will grow with the years with each release. If you wanted to listen to the records, you would have to take the work down, destroy the composition, deconstruct the relations.
AH : Also present are «Ecart Production» et les «Editions Cactus», projects by artists Philippe Lepeut et Thierry Weyd respectively. These are also generous initiatives that can be compared to Optical Sound. We met Philippe Lepeut while we were students on the post-graduate programme in Nantes. He has always worked in constant dialogue with all sorts of creative people, and he thought that lots of video works were getting overlooked. That's why he set up Ecart, to publish DVDs. Thierry Weyd also works essentially in collaboration with other creators, often in groups. Facing up to the great machine of art, Editions Cactus are for him a way to establish a certain autonomy, even at a small scale. With his friends, through music, performance, writing, design or DIY, his projects are often discreet and intimate. His most recent project «The Container» is a way of supporting and transmitting the work of other artists towards a new public, much in the same way as a travelling salesman.
DMC : We mustn't give the impression that all these works come from our personal collection. In order to produce an exhibition at the level of our ambitions, we borrowed a lot of work from the artists themselves and from collectors, both public and private, such as your parents, Robert Fleck, Bertrand Gadenne or Elsa Tomkowiak. In the end there are more or less sixty artists in this exhibition. The FRAC Pays de la Loire and the FRAC Bretagne lent us their archives of the project NCDGQAD, an art school by correspondence set up by Gilles Mahé & Jean-Philippe Lemée. There is quite a lot to see so we gave the dedicated exhibition space over to this relational work.
AH : This piece by Gilles Mahé and Jean-Philippe Lemée is really situated on the halfway on the path that leads from Robert Filliou to ourselves. We really wanted to share this work that touches on the absurd, that is process-based, and allows the public to intervene. It really was a long-distance teaching practice. They thought up and created a real art school to address all types of representation. They even established evaluation criteria. The school existed from 1994 to 1997. Here we are showing a selection of posters that were produced at the end of each pedagogic session. There are also vitrines containing archives that reveal the procedures and life of the school, postal correspondence, drawings, tools and «artistic recipes».
Anabelle Hulaut & David Michael Clarke
Translation : David Michael Clarke