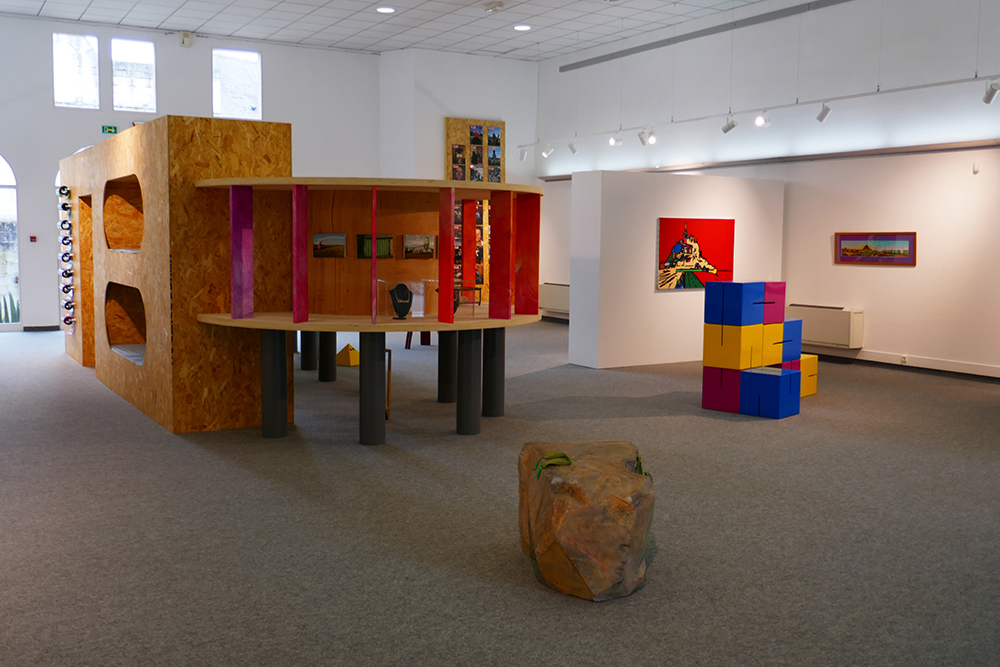 Social sculpture, 2017-2019.
Plywood, OSB, PVC.
240 cm x 750 cm x 320 cm.
Group exhibition, 2019.
Project développe whilst artist-in-residence at the Artothèque de Vitré.
Salle du Temple, Vitré.
Du 16 juin au 22 septembre 2019.
David Michael Clarke with invited artist, Elsa Tomkowiak.
With works from the FDAC Ille-et-Vilaine collection : Isabelle Arthuis, Hervé Beurel, Alain Bizeau, Muriel Bordier, Etienne Bossut, Marine Bouilloud, Jocelyn Cottencin, Christine Crozat, Marcel Dinahet, Julien Duporté, Laurent Duthion, Camille Girard & Paul Brunet, Vincent Victor Jouffe, Olga Kisseleva, Jan Kopp, Angélique Lecaille, Didier Lefèvre, Jean-Philippe Lemée, Damien Marchal, Nicolas Milhé, Benoit-Marie Moriceau, Samir Mougas, Paul Pouvreau, Mathieu Renard, Les Frères Ripoulin, Pascal Rivet, Mathilde Seguin, Yann Sérandour, Eva Taulois, Pascal Jounier Trémolo, Yves Trémorin, David Zérah.
See also:
Madame Orain and the magic bean
Madame Orain at home (film)

Links:
Elsa Tomvowiak
Isabelle Arthuis
Hervé Beurel
Alain Bizeau
Muriel Bordier
Etienne Bossut
Marine Bouilloud
Jocelyn Cottencin
Christine Crozat
Marcel Dinahet
Julien Duporté
Laurent Duthion
Camille Girard & Paul Brunet
Vincent Victor Jouffe
Olga Kisseleva
Jan Kopp
Angélique Lecaille
Didier Lefèvre
Jean-Philippe Lemée
Damien Marchal
Nicolas Milhé
Benoit-Marie Moriceau
Samir Mougas
Paul Pouvreau
Mathieu Renard
Les Frères Ripoulin
Pascal Rivet
Mathilde Seguin
Yann Sérandour
Eva Taulois
Pascal Jounier Trémolo
Yves Trémorin
David Zérah