Newspaper, 2019.
332 x 475 mm. 400 units.
Editor-in-chief : Valentin Alizer.
Production Artothèque de Vitré & ESAD TALM Le Mans.
Contributors : Manon Alberger, Valentin Alizer, Camille Bes, Bordelou, Elina Bry, Cassandre Cecchella, Tanguy Clerc, Justin Delareux, Mathieu Dufois, Olivier Garraud, Shani Ha, Laura Haie, Anaïs Hay, Pierre-Yves Hélou, Bonella Holloway, Alexis Judic, Hélène Laurent, Julian Lemousy, Marion Mounic, Lucas Pastor, Federica Peyrolo, Lada Neoberdina, Leila Saunier.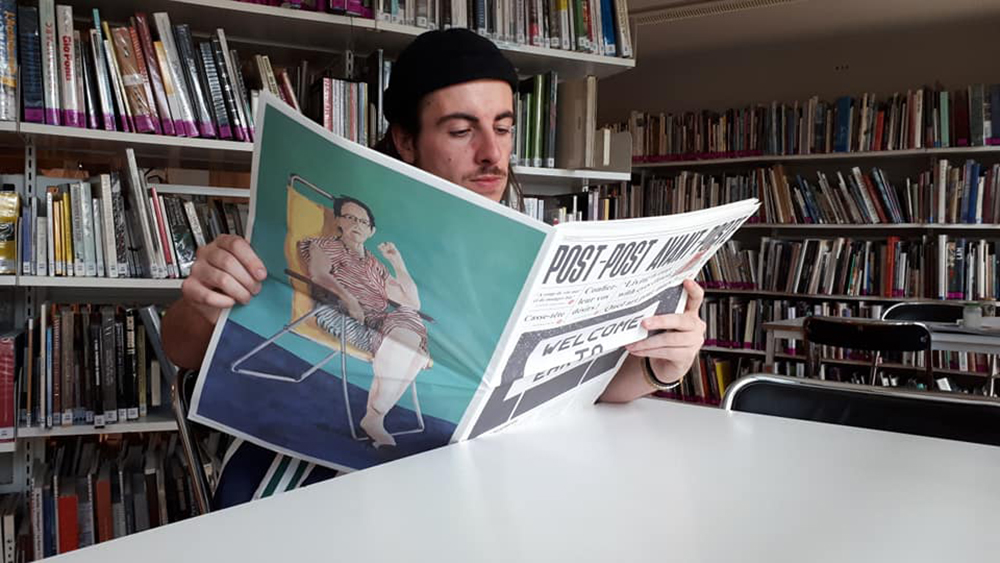 This newspaper was published, Chez soi, demain maintenant at the Artothèque de Vitré en 2019. The starting point of this exhibition was the celebrated collage, Just what is it that makes today's homes so different, so appealing ? created by Richard Hamilton en 1956.
On one of the armchairs in Hamilton's collage, a newspaper has been left, seemingly forgotten. I decided to publish a newspaper as a sort of « exhibition within an exhibition », a publication that would carry fresh news of tomorrow's artists. I contacted Valentin Alizer, a young graduate from ESAD-TALM, the art school where I teach, and asked him to act as editor-in-chief and contact other ex students to participate in this unique project. Thus the publication of this journal is the occasion to gather together several generations of young artists that I have been able to get to know over the last eighteen years, as a glance into the future.
Also See:
At Home, Tomorrow Today
Links:
Manon Alberger
Valentin Alizer
Camille Bes
Bordelou
Elina Bry
Cassandre Cecchella
Tanguy Clerc
Justin Delareux
Mathieu Dufois
Olivier Garraud
Shani Ha
Laura Haie
Anaïs Hay
Pierre-Yves Hélou
Bonella Holloway
Alexis Judic
Hélène Laurent
Julian Lemousy
Marion Mounic
Lucas Pastor
Federica Peyrolo
Lada Neoberdina
Leila Saunier