Sculpture, 2014.
Plywood, pine timber, polycarbonate roofing.
Height: 186 cm, Length: 244 cm, Depth: 156 cm
Production: La Galerie du Dourven / Itinéraires Bis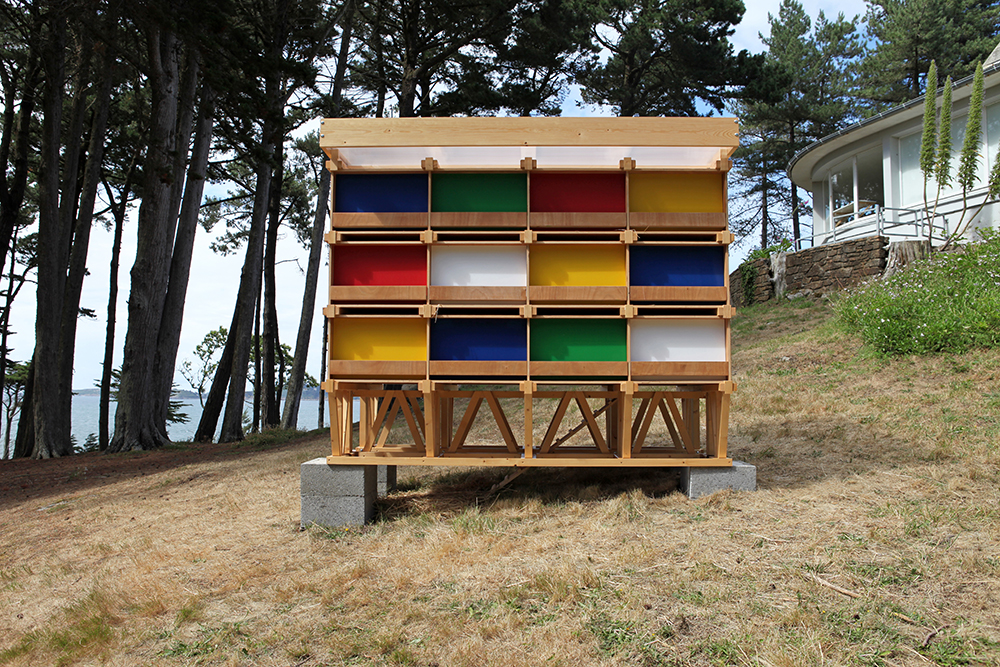 In 2014, I was invited by Didier Lamandé to conceive an exhibition in «two halves» at the Galerie du Dourven, Côtes d'Armor. The gallery is situated in the middle of a large park. I wanted to imagine my exhibition as a crossroads for all the people who used the park, which posed a problem because until then, dogs were banned in the gallery. Finally, Didier accepted the idea of modifying the rulebook, which in turn lead me to a new problem because once the dogs were allowed «intra-muros», I was obliged to consider their interests. Up until then, I had only ever made artwork for human consumption. Thus I spent quite a few nights in the gallery so that I could get up early to film the park's lagomorphic population. The edited video was presented at floor level to facilitate viewing by our canine friends.


In the second exhibition, I wanted to do something for the rabbits. Inspired by the building «Hélios», constructed by the architect Roger Le Flanchec on the opposite peninsula, and of course the «Cité Radieuse» by Le Corbusier, I set myself down to conceive of a modern housing unit for the rabbits. After one week of construction with Jean-Luc Rault, I could show my children just how easy it was to mount the sculpture.


Unfortunately the wild rabbits never took to my housing project. Nevertheless, the dog-walkers started to leave me messages in the form of cuddly rabbits left inside the appartements. The sculpture stayed in place from June to December and survived a serious storm.


In 2015, Mathias Courtet asked me to participate in the «Nuit Blanche Mayenne». He suggested installing the housing project on an educational farm belonging to a local primary school. The sculpture would stay in place for one month, allowing a group of children with learning difficulties to study the projet and produce their own artwork. I had no hesitation in accepting the offer.


In 2016, invited by Yvan Poulain to imagine an exhibition for the Musée Calbet in Grisolles, and in the knowledge that every generation tends to reinvent the architecture built by their predecessors, I decided to reinvent my housing project for rabbits as a museum. In this case, a museum within the museum. With a nod and a wink to the Belgian surrealist painter, Rene Magritte, I chose some of the most enigmatic objects from the museum's permanent collection and installed them inside the apartments.