Works from the collection, Frac Normandie Caen at the Pavillon, Caen.
17th May to 23rd July 2017.
Yves Bélorgey, Olivier Blanckart, David Michael Clarke, Benoit Grimbert, Séverine Hubard, Matthieu Martin.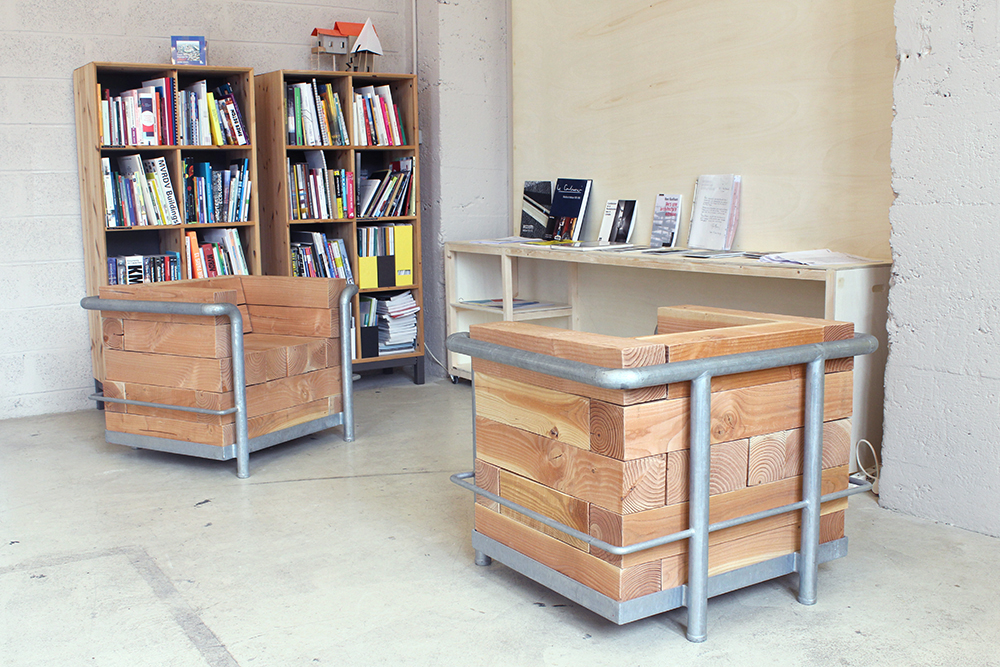 It's as a watermark that architecture is taken as a subject in the works gathered for the exhibition "dedans-dehors".
Sévérine Hubard discovered a sculpture, a public fountain, made by Gérard Mannoni in 1976 for Place de la République in Caen. The work, 'Demi-République' is an interpretation of this sculpture using salvaged materials.
It is the same notion of chance encounter, but also the transmission of art ideas that underpins the work of David Michael Clarke. Veritable «vectors» of art, it's stories, great or small, feeding off architecture and design, impacting on forms, objects, everyday life. David Michael Clarke reworks a lampost produced by the company Holophane in 1969, and whose form seems to echo the work of the American artist, Donald Judd. «Salon LC2, all-weather version» is a collection of furniture in wood and steel, a hommage to Le Corbusier conceived in part as a upscaled version of a child's toy.
It's the architect as a figure who becomes the suject for Olivier Blanckart in the continuity of a project looking at contemporary icons. in the work, «The Remix Koolhaas (after August Sander, the Architect)», the seated figure holds a sign that reads «Fuck the context». The sculpture is a representation of the architect Hans Poelzig who posed for August Sander in the 1930's. The sign he is holding refers to a famous declaration made by the contemporary architect, Rem Koolhaas.
Working in series, Yves Bélorgey and Benoit Grimbert impose a necessary distance with architecture as the subject for objective study. Benoit Grimbert uses photography to understand the post-war reconstruction in Normandy. Yves Bélorgey uses painting to explore the potential relation between abstract composition and the reality of large-scale social housing.
Matthieu Martin most often works in a urban context, revealing hidden gestures from the world of painting. The video «Refresh the Revolution» was made during a residency in the town of Ekaterinbourg, whose constructivist architecture is emblematic of the ideals of the Russian revolution.
An exhibition by FRAC Normandie Caen, in collaboration with Le Pavillon.