Summer of Twenty Sixteen. Streets of London. March for Europe.
Tapestry, 2019.
1m70 x 2m60. Wool.
Production Artothèque de Vitré.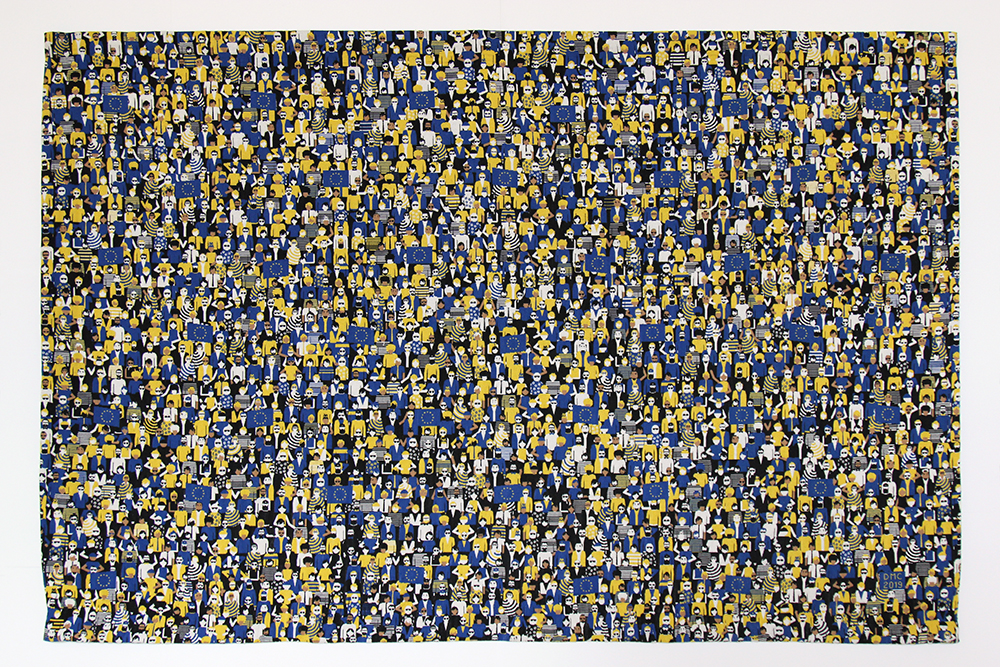 This tapestry, March For Europe was created for the exhibition, Chez soi, demain maintenant at the Artothèque de Vitré en 2019. The starting point of this exhibition was the celebrated collage, Just what is it that makes today's homes so different, so appealing ? created by Richard Hamilton en 1956.
In his collage, Hamilton evoked the texture of the carpet by using a quasi-aerial photograph of sun-bathers on Whitley Bay beach, near Newcastle, England. This place resonnated personally for me as my grandma spent her teenage in this town and she told me some of her intrepid stories. Today, most of the aerial photography that I see is either of rock festivals or political demonstrations. In 2016, as this project began, the activists in my home country were busy marching for or against « Brexit ». The pro-Europeans manifested their political allegiance by wearing yellow and blue outfits. I set to drawing one such march, pixel by pixel, and then through collaboration, to weaving a grand tapestry in the town of Felletin. 
Why did I choose to make this image as a tapestry ? Well nearly one thousand years ago another great event happened that would define anglo-european relations for a very long time. William, duke of Normandy, attacked King Harold's army at the battle of Hastings and consequently conquered England. A very long tapestry was made to mark the occasion. It seemed pertinent to me that I should make a tapestry to mark this new moment in our shared history that will also, whatever one's opinion, redefine anglo-european relations for years, decades, maybe centuries to come. 
Also See:
At Home, Tomorrow Today